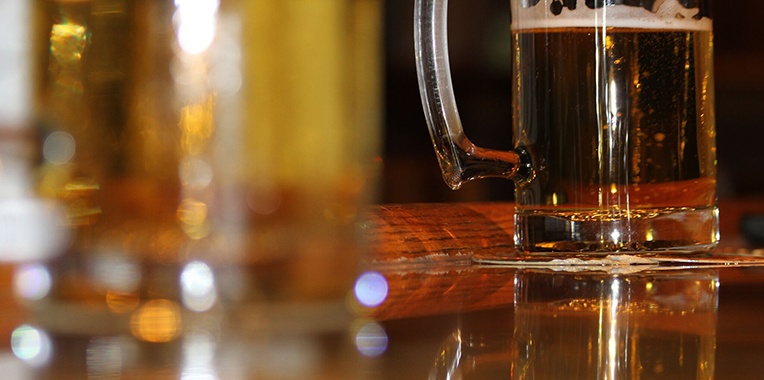 The great thing about EPOS-powered businesses is that you're able to tailor the technology to your specific services. So an EPOS for a small café would have different specifications to that of a large pub or restaurant.
For pubs, it's important to consider the challenges faced by landlords, management, customers and the extended team. For example, any loyalty offers, alternating guest ales, business reporting, and the durability of the EPOS hardware during busy, messy shifts. Here's the basics...
Hardware guide
What are the basic parts of a standalone EPOS system for your pub? Obviously, not every pub is the same, but there are some key things to think about.
Do you need something a little more robust and spill-proof to handle busy peaks in service? As you're in the pub business, you'll obviously want a customer-facing device to take payment. Chip and Pin terminals let you accept cards. Some businesses are even beginning to adopt a cashless, card-only approach, but if your pub accepts 'real' money, you'll want a cash drawer. And however you accept payment, you'll always need a receipt printer.
That covers the basic equipment that you'll need to start using EPOS technology in your pub.
Software guide
At the heart of an EPOS solution is the software that ties all the hardware together and allows the system to work as it should. You'll need to pick a software solution that's both reliable and fits your particular pub's needs. And this might be your hardest decision to make; there are so many options around that you can choose from, each with different features. Think carefully about the options your business will get the most value from.
Examples of some really great pub management EPOS software includes the centralisation and reporting of daily activities like sales, turnover, stock levels, ordering, upselling alerts, and reconciliation of transactions against stocking levels. The information can be tailored and easy-to-access via a back-office system, allowing secure access any time using any internet-enabled device. The system can even be intuitive, alerting you when stock reconciliation discrepancy happens between transactions and warning you about the stock levels available in your cellar.
Common mistakes:
Insufficient training
Choosing without considering your team

Buying based on price

Purchasing a one-size-fits-all system

Getting stuck without support
10 quick tips
1. Think about what you might need in 5 years' time
Don't just think about what your pub needs right now, but about the long-term plan. You need a scalable system that can adapt and grow as your business does.
2. Consider the reporting capabilities
Bet you didn't open a pub because you love spreadsheets. Think about what capabilities your EPOS system needs to make sure you can get fast, easy-to-view, insightful reporting (inventory, timesheets, end-of-day) in order to make data-driven decisions about your staff, stock, promotions and offers. This is so you're able to spend less time on reporting and more time doing what you're passionate about. With Cloud-based systems, you can even access these reports from anywhere, any time.
3. Engage your team from the start of the selection process
Have your chefs been having trouble with receiving orders? Do your bartenders need something to make their shifts easier in peak times? Engaging your team from the very beginning of the decision-making process will help you decide what will benefit your work force most, so you know you're investing in the right solution.
4. Be serious about team training
To truly make the most of the technology EPOS is offering these days, it's key to encourage your team to spend time learning how to use it. A team-training day will do wonders. Explain the upselling capabilities it offers and let them know their performance will be monitored by offering rewards for the most sales made per week/month.

It will also be useful for your team to have something to refer to if they're ever stuck. Having basic guidelines and instructions available at any time will ensure everyone is using the system correctly, helping you avoid any usage errors. If errors do occur, your team can refer to the guidelines to see if it's fixable on their end, and who to call if not.

To ease this important step, you can opt for a till system which is easy to use and fully customisable to ensure staff training is a breeze and more importantly speedy!
5. Can the system provide stock management and inventory information?
With some systems, you can bring all stock management, inventory information and transaction processing into one EPOS terminal — all housed neatly behind the bar.
6. Could you benefit from mobile EPOS technology?
Mobile ordering solutions allow you to spend more time with customers instead of repeatedly running back and forth to the bar. They also help you make fewer mistakes when sending orders to the kitchen or bar, and give the opportunity to upsell by taking and submitting orders directly from the table.
7. Offer promotions and loyalty schemes
Some systems make it really easy for landlords to customise and change items. You can load apps and add-on useful business modules including social media review sites like TripAdvisor. So when running a promotion like the availability of a guest beer, you can easily add the item on the menu and share it on Facebook and Twitter from the convenience of your till in a matter of minutes.
8. Do a PCI compliance check
It's a bit of a no-brainer, but make sure whatever EPOS solution you go for, it's up to date with PCI compliance for card payment standards. This provides peace of mind for both you and your customers.
9. If you can, buy an all-in-one solution from the same company
Having an all in one solution from the same company in terms of hardware and software really makes sure both are perfectly synced from the get-go. A lot of brands will normally have one or the other, or perhaps the software is built by them and they ship cheap hardware tills from another country. But there are some which deliver both quality hardware and software together from the same origin, offering that extra reassurance.
10. Make sure you receive ongoing support
Your job is in hospitality, not technology. Your provider should be able to support you by sending out onsite technicians to help you install a new system correctly, and troubleshoot any technical problems you might experience in the future.
Conclusion
Think hard about what your pub's main pain-points are and what already works well. You don't have to get a one-size-fits-all system! Instead, you can get a completely bespoke EPOS solution tailored to your pub's needs. Once you've narrowed down your choices, you should be able to try before you buy. Most vendors will throw in a free trial or demo, so make sure to take advantage of those.
If you're still unsure of which system to go for, Casio deliver hardware and software together in the form of the Android-based V-R7000, which has been created specifically for pubs and restaurants. It's simple and easy to use, has a low power consumption, is robust, reliable, and adaptable. Plus, it syncs up to an optional Cloud-based back office for till management and advanced reporting functionality. Pairing this with Mobile Ordering can really give your pub the edge when it comes to customer service.
Chat to us today about your pub's needs, or ask us for a free demo!