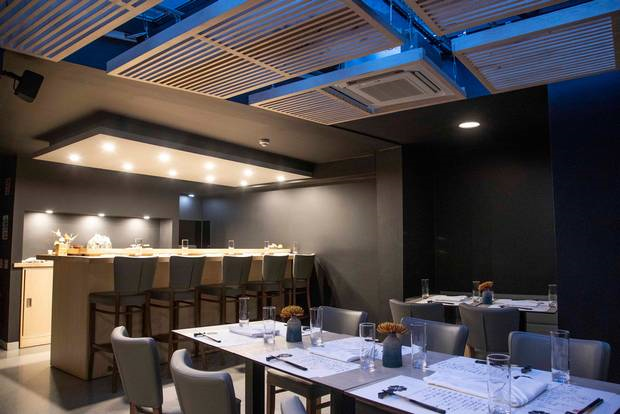 "Since we have installed the Casio system, the reporting stages of our week have been made so much easier."
CHALLENGE
Situated in the heart of Cork, Ichigo Ichie is Ireland's first kappou-style and kaiseki restaurant in Ireland following its opening in Spring 2019. Run by world renowned chef Takashi Miyazaki, Ichigo Ichie has quickly become a hot-spot for discerning foodies to enjoy an amazing culinary experience in a beautiful city. With its Michelin star win this year, the fine dining restaurant offers a taste of the most exquisite food Asia has to offer in opulent and chic surroundings wrapped in an amazing culinary experience.
Due to its success and premium reputation, Ichigo Ichie required an EPOS system that reflected its prestige and ensured the restaurant continues to offer an unparalleled guest experience.
SOLUTION
In order to ensure that Ichigo Ichie offered the most seamless and efficient service experience to its guests, General Manager Jenny Russell contacted Casio's expert EPOS system provider CBE, who advised her to upgrade the restaurant's previous, traditional till system to Casio's V- R7000 solution.
Robust and reliable, the V-R7000 system supports a wide range of retail and hospitality operations and features a stylish design suitable for installation in any location. Much more than simple cash registers, it offers high-end functionality and detailed reporting to help operators take informed business decisions.
With an automated table plan, flexible set menu management and seamless kitchen and customer communication, the V-R7000 is an ideal EPOS solution for restaurants, ensuring service runs smoothly.
RESULTS
As a result of Casio's V-R7000 reporting system, Jenny and her team are now able to gather vital information such as sales reports, which can be used to improve the restaurant and its offering. Furthermore, the efficiency of the system provides the team with a simple and concise reporting system rather than lots of unmanageable data
"Since we have installed the Casio system, the reporting stages of our week have been made so much easier. The reports are now much simpler than those provided by our previous system - we now only get the reports that we need. This means we save so much time by not searching through reports that offer us little insight into the business."
With its premium offer, the Ichigo Ichie dining experience is often enjoyed by customers as a gift, meaning gift cards are often redeemed as part payment. Casio's V-R7000 allows for easy payment through this system, resulting in a seamless experience for both guest and till operator, something that was not available through the previous system.
Jenny is clear that for those dining at Ichigo Ichie, the experience is key. The easy-to-use nature of Casio's system means that her team are able to spend more time connecting with customers and focusing on delivering its award-winning culinary experience instead of spending time navigating a complicated and inefficient EPOS system.
Jenny summarises her experience:
"We are very happy with the Casio system and the way it has fitted in and benefited our restaurant!"
.Want to learn more about what Casio EPOS can do for your bar/restaurant?